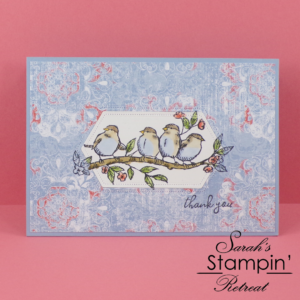 Hello Crafters! I hope you're well this morning! We've been having some lovely weather in the UK, so each morning my son and I go outside to listen to the birds sing and see what "friends" (mostly insects) we can find in the garden. It's become one of my favourite parts of the day as we both just take a minute to sit and take stock of the beautiful things around us. The cute little birds on this Free as a Bird card made me think of that special time together as I feel very lucky that even though we live in central London we still have a lot of wildlife to spot.
I've used a simple spotlighting technique on this card which is really easy to do, and today's Friday, so I have a video showing you how! Don't forget to read to the bottom if you want to shop any of the products we used on these cards. You'll be able to get most of it for the coming year, but if you want the patterned paper you need to be quick as that retires on Tuesday ready for the new catalogue launch on Wednesday!
Video Tutorial -- Simple Spotlighting Technique with Free as a Bird
I hope you enjoyed this project. Click the links below to shop the products used to make it.
JOIN MY TEAM
Product List
Widget not in any sidebars
Sarah Phelan, Independent UK Stampin' Up Demonstrator
Sarah Phelan, Independent UK Stampin' Up Demonstrator